Welcome to Heart of Texas Party Rentals: Your One-Stop Shop for Event Supplies
At Heart of Texas Party Rentals, we pride ourselves on offering an extensive range of party essentials to make your Waco, Texas event truly memorable. From bounce houses and water slides to tables, tents, and chairs, we've got everything you need to create the perfect celebration.
Our friendly and knowledgeable team is committed to providing exceptional customer service, ensuring a stress-free rental experience. Let us help you plan an unforgettable event that will leave a lasting impression on your guests!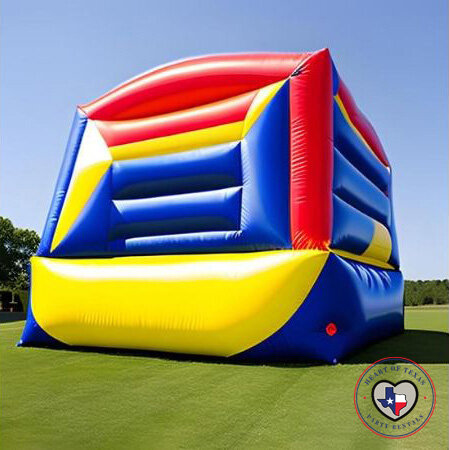 Setup Area: 30' x 30'
Actual Size: 30' x 30'
Attendants: 1
Outlets: 1
Age Group: 3+
Description
Unleash the Fun with Our 30-Foot Bounce Houses
Presenting our spectacular 30-foot Bounce Houses, the ultimate showstopper for any Waco, Texas event! These massive and visually striking inflatables deliver non-stop fun and entertainment for guests young and old. Made from top-quality, resilient materials, our 30-foot bounce houses guarantee a secure and enjoyable experience for everyone involved.
Boasting captivating designs and themes, these bounce houses not only offer a thrilling play space but also act as an attention-grabbing focal point for your event. Their generous size accommodates numerous participants simultaneously, making sure everyone has an opportunity to leap, bounce, and make unforgettable memories.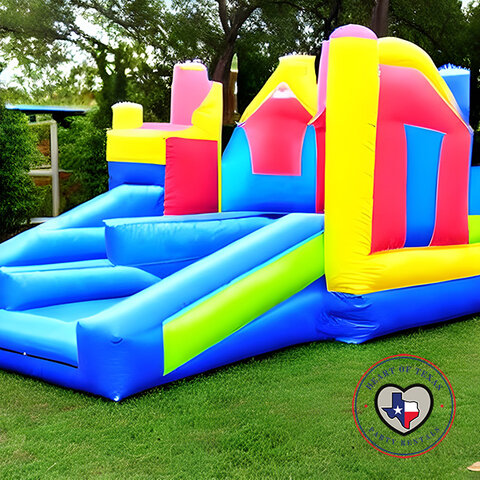 Ideal for outdoor birthday parties, school carnivals, or corporate events, our 30 Foot Bounce Houses cater to a diverse range of themes and tastes. Don't miss out on taking your celebration to new heights with one of these impressive inflatables – reserve your 30-foot Bounce House today and let the excitement begin!
For any questions or assistance in choosing the perfect bounce house for your event, please don't hesitate to call us at (254) 218-1106 and speak with one of our knowledgeable team members.
Experience the Wow Factor with Our 30-Foot Bounce Houses
Step up the excitement at your Waco event with our incredible 30-foot Bounce Houses, a surefire way to impress and delight your guests. Not only do these towering inflatables provide hours of entertainment, but they also create a visually stunning centerpiece that will have everyone talking.
Our selection of 30-foot bounce houses features a variety of imaginative themes and colors, perfect for sparking joy and creativity in children and adults alike. And with safety as our top priority, you can have peace of mind knowing that our inflatables are constructed with durable materials and meticulously maintained to ensure a secure play environment.
Transform your next Waco event into an unforgettable experience by choosing a 30-foot Bounce House from Heart of Texas Party Rentals. Our friendly and knowledgeable team is here to help you select the perfect inflatable for your celebration and ensure a smooth rental process from start to finish. Don't wait to book your 30-foot Bounce House now and let the fun soar to new heights!
Explore Our Wide Selection of Party Essentials for Your Waco, Texas Celebrations
Discover the perfect party additions with our diverse inventory, designed to cater to any event theme, size, or budget. Whether you're planning a birthday party, a corporate gathering, or a community event, our selection of high-quality rentals will ensure a successful and enjoyable celebration.
From inflatable attractions and interactive games to elegant tents and comfortable seating options, we strive to make your event planning process seamless and stress-free. Let Heart of Texas Party Rentals be your go-to source for all your event needs in Waco, Texas!