Welcome to Heart of Texas Party Rentals: Your One-Stop Shop for Event Supplies
At Heart of Texas Party Rentals, we pride ourselves on offering an extensive range of party essentials to make your Waco, Texas event truly memorable. From bounce houses and water slides to tables, tents, and chairs, we've got everything you need to create the perfect celebration.
Our friendly and knowledgeable team is committed to providing exceptional customer service, ensuring a stress-free rental experience. Let us help you plan an unforgettable event that will leave a lasting impression on your guests!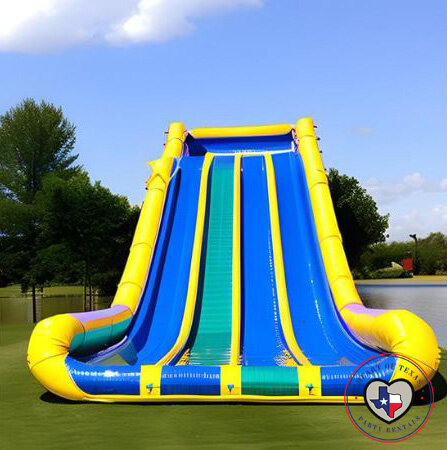 Setup Area: 20' x 20'
Actual Size: 20' x 20'
Attendants: 1
Age Group: 3+
Description
Experience Endless Fun with our 20-Foot Water Slide Rentals in Waco, Texas
The 20 Foot Water Slide is the perfect addition to any summer party or event. This inflatable slide is 20 feet tall and features a dual-lane slide, allowing two guests to slide down simultaneously. The vibrant colors and exciting design are sure to catch the attention of your guests and provide hours of entertainment.
This water slide rental is ideal for backyard parties, community events, and corporate gatherings. It is easy to set up and take down, and our team of professionals will ensure that the slide is securely and safely set up for your event.
At Heart of Texas Party Rentals, we take great care to ensure that all our rental items are well-maintained, sanitized, and safe for use. We offer flexible rental periods to accommodate your event schedule, and we provide delivery, setup, and pickup services for all of our rental items.
Make a splash at your next event with the 20-foot Water Slide rental in Waco, TX. Contact us today to reserve your rental and ensure that your event is one to remember!
Transform Your Summer Celebration with the 20-Foot Water Slide
Our 20-foot water slide rentals in Waco, Texas, are designed to maximize fun and excitement at your event. The dual-lane design allows for friendly competition, as guests can race down the slide side-by-side, increasing the thrill and encouraging everyone to join in the fun. The wide slide area also ensures shorter wait times, so more guests can enjoy the refreshing experience throughout the day.
While our 20-foot water slide rental will surely be the star attraction at your event, consider complementing it with our other party rental offerings. We provide a wide range of options, including bounce houses, obstacle courses, interactive games, and more. By adding various entertainment options, you'll create an unforgettable atmosphere and cater to the diverse interests of your guests. Let Heart of Texas Party Rentals help you craft the perfect event experience, tailored to your needs and preferences.
At Heart of Texas Party Rentals, we pride ourselves on providing exceptional customer service and top-quality rental items. We understand the importance of a memorable event and are committed to ensuring everything runs smoothly from start to finish. Our knowledgeable and friendly team is here to answer any questions you may have and provide guidance on selecting the best rental options for your unique event. Choose us for your Waco, Texas party rental needs, and experience the Heart of Texas Party Rentals difference!
Explore Our Wide Selection of Party Essentials for Your Waco, Texas Celebrations
Discover the perfect party additions with our diverse inventory, designed to cater to any event theme, size, or budget. Whether you're planning a birthday party, a corporate gathering, or a community event, our selection of high-quality rentals will ensure a successful and enjoyable celebration.
From inflatable attractions and interactive games to elegant tents and comfortable seating options, we strive to make your event planning process seamless and stress-free. Let Heart of Texas Party Rentals be your go-to source for all your event needs in Waco, Texas!