Welcome to Heart of Texas Party Rentals: Your One-Stop Shop for Event Supplies
At Heart of Texas Party Rentals, we pride ourselves on offering an extensive range of party essentials to make your Waco, Texas event truly memorable. From bounce houses and water slides to tables, tents, and chairs, we've got everything you need to create the perfect celebration.
Our friendly and knowledgeable team is committed to providing exceptional customer service, ensuring a stress-free rental experience. Let us help you plan an unforgettable event that will leave a lasting impression on your guests!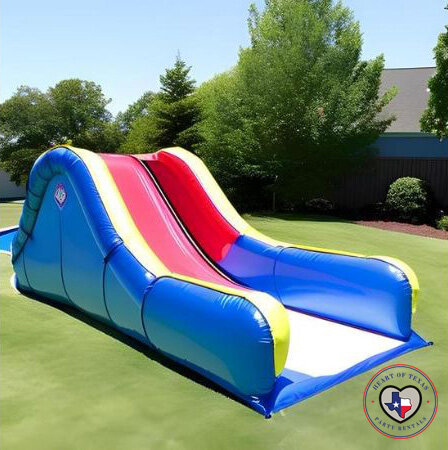 Setup Area: 10' x 10'
Actual Size: 10' x 10'
Attendants: 1
Age Group: 3+
Description
Experience Unforgettable Fun with 10-Foot Water Slide Rentals in Waco, Texas
Make a splash at your next event with our exhilarating 10-foot Water Slide Rentals in Waco, Texas! Heart of Texas Party Rentals offers an exciting way to cool off and have fun with friends and family during those hot summer days. Our 10-foot water slides are perfect for children's birthday parties, community gatherings, or any outdoor event where you want to add excitement and entertainment.
Our 10-foot Water Slide Rentals are designed with safety and enjoyment in mind, featuring easy-to-climb stairs, secure handrails, and a cushioned landing area at the bottom of the slide. Our water slides' vibrant colors and eye-catching design will instantly transform your event into a water park adventure. All you need is a water source; our team will handle the setup and takedown, ensuring a stress-free experience.
Don't let the heat keep you indoors; dive into the excitement with our 10-foot Water Slide Rentals in Waco, Texas. Please browse our selection today and reserve the perfect slide for your upcoming event. And don't forget to check out our other party rental offerings to complete your event planning needs.
Add a Splash of Adventure to Your Party with 10-Foot Water Slides
Transform your event into a thrilling adventure with our 10-foot water slide rentals. These compact water slides are perfect for adding excitement to any outdoor gathering without taking up too much space. You will find the ideal water slide with various designs and themes to match your event's style and atmosphere.
Effortless Setup and Takedown for a Stress-Free Event
Our Heart of Texas Party Rentals team understands that planning and organizing an event can be daunting. That's why we strive to make the rental process as seamless and convenient as possible. When you choose our 10-foot water slide rentals, our professional staff will handle the delivery, setup, and takedown, allowing you to focus on enjoying the festivities with your guests. Just provide a water source, and we'll take care of the rest, ensuring your event runs smoothly from start to finish.
Quality and Safety: Our Top Priorities for Your Water Slide Experience
At Heart of Texas Party Rentals, we are dedicated to ensuring the safety and enjoyment of all our guests. Our 10-foot water slides are made from high-quality materials and designed to withstand hours of fun while providing a secure play environment. We carefully inspect and clean each water slide before and after every rental to maintain strict safety and hygiene standards. Trust our trained professionals to deliver a hassle-free and memorable water slide experience for you and your guests.
Make a Lasting Impression with Heart of Texas Party Rentals
With our 10-foot water slide rentals, you can turn any Waco, Texas, event into an unforgettable experience for your guests. Whether you're hosting a child's birthday party, a community gathering, or a family reunion, our water slides will add a unique and exciting element to your celebration. Don't wait – book your 10-foot water slide rental today and let the splashing fun begin!
Explore Our Wide Selection of Party Essentials for Your Waco, Texas Celebrations
Discover the perfect party additions with our diverse inventory, designed to cater to any event theme, size, or budget. Whether you're planning a birthday party, a corporate gathering, or a community event, our selection of high-quality rentals will ensure a successful and enjoyable celebration.
From inflatable attractions and interactive games to elegant tents and comfortable seating options, we strive to make your event planning process seamless and stress-free. Let Heart of Texas Party Rentals be your go-to source for all your event needs in Waco, Texas!