Welcome to Heart of Texas Party Rentals: Your One-Stop Shop for Event Supplies
At Heart of Texas Party Rentals, we pride ourselves on offering an extensive range of party essentials to make your Waco, Texas event truly memorable. From bounce houses and water slides to tables, tents, and chairs, we've got everything you need to create the perfect celebration.
Our friendly and knowledgeable team is committed to providing exceptional customer service, ensuring a stress-free rental experience. Let us help you plan an unforgettable event that will leave a lasting impression on your guests!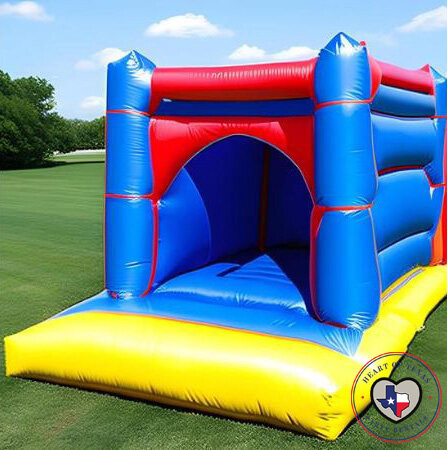 Setup Area: 10' x 10'
Actual Size: 10' x 10'
Attendants: 1
Outlets: 1
Age Group: 3+
Description
Delightful 10-Foot Bounce Houses for Unforgettable Waco, Texas Events
Introducing our delightful 10-foot Bounce Houses, the perfect entertainment solution for any Waco, Texas event! These compact yet exciting inflatables provide fun for younger guests while ensuring a safe and enjoyable play experience.
Constructed from high-quality, durable materials, our 10-foot bounce houses are designed with captivating themes and vibrant colors that will delight children and add a festive touch to your celebration. Their smaller size makes them ideal for events with limited space, such as backyard parties, small gatherings, or indoor venues.
Ideal for children's birthday parties, playdates, or intimate family events, our 10 Foot Bounce Houses cater to various themes and preferences. Don't miss out on the opportunity to enhance your celebration with one of these charming inflatables – book your 10-foot Bounce House today and let the laughter begin!
If you have any questions or require assistance choosing the perfect bounce house for your event, please don't hesitate to call us at (254) 218-1106 and speak with one of our knowledgeable team members.
Excellent Customer Service to Assist with Your 10-Foot Bounce House Rental
At Heart of Texas Party Rentals, we understand that planning an event can be time-consuming and stressful. That's why we're committed to providing a seamless rental experience. Our team of professionals will handle the delivery, set-up, and take-down of your 10-foot bounce house, allowing you to focus on enjoying your event and creating cherished memories with your guests.
At Heart of Texas Party Rentals, customer satisfaction is our top priority. Our friendly and knowledgeable staff is always available to answer your questions, offer guidance on selecting the right bounce house for your event, and ensure a smooth rental process from start to finish. We pride ourselves on delivering exceptional service and an unforgettable party experience that you and your guests will cherish for years.
Quality and Safety Assured with Our 10-Foot Bounce Houses
When providing a safe and enjoyable play environment for children, we don't compromise on quality. Our 10-foot bounce houses are made of top-notch, resilient materials and are regularly inspected to ensure they meet our strict safety standards. You can trust us to provide a clean and secure play area to keep the little ones entertained and parents at ease.
Our collection of 10-foot bounce houses features an array of themes to suit every occasion and personal taste. From adorable animals and popular cartoon characters to whimsical fairytale settings and exciting adventure scenarios, you will surely find the perfect bounce house to complement your event's theme. With our extensive selection, creating a memorable and personalized party experience has never been easier.
Explore Our Wide Selection of Party Essentials for Your Waco, Texas Celebrations
Discover the perfect party additions with our diverse inventory, designed to cater to any event theme, size, or budget. Whether you're planning a birthday party, a corporate gathering, or a community event, our selection of high-quality rentals will ensure a successful and enjoyable celebration.
From inflatable attractions and interactive games to elegant tents and comfortable seating options, we strive to make your event planning process seamless and stress-free. Let Heart of Texas Party Rentals be your go-to source for all your event needs in Waco, Texas!