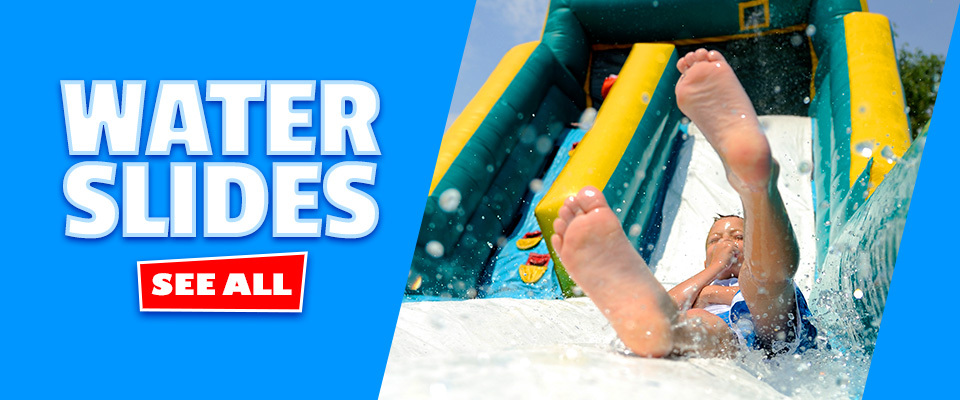 Water Slides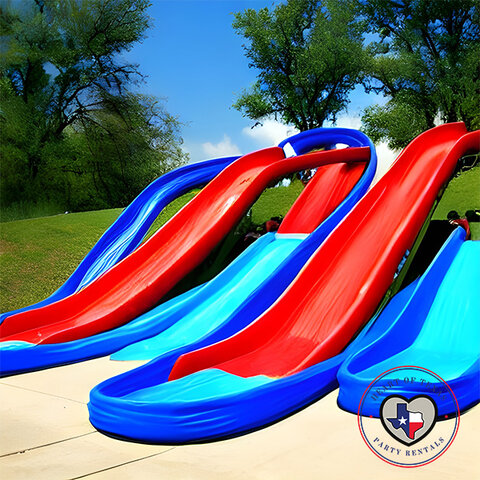 Water Slide Rentals: Make a Splash at Your Waco, Texas Event
Elevate your Waco, TX event with our amazing inflatable water slide rentals at Heart of Texas Party Rentals! Ideal for hot summer days, our premium inflatables guarantee fun for all ages. Transform any birthday or community event into an unforgettable experience.
Discover excitement with our Water Slide Rentals in Waco, Texas.
Our Water Slide Rentals in Waco, TX cater to all age groups, event styles, and budgets. From giant slides to smaller options, we prioritize safety and enjoyment with high-quality, durable materials.
Dive Into Our Exciting Water Slide Collection
Explore our wide range of inflatable water slide rentals in Waco, Texas, suitable for any event. With thrilling giant slides, slip 'n slides, and tropical-themed options, we have the perfect water slide for a memorable party atmosphere. Crafted from high-quality materials, our water slides ensure a safe and enjoyable experience for guests.
Transform your Waco event with our Water Slide Rentals. Reserve one today, and don't forget to inquire about our additional party rental options for a complete event experience.
Commitment to Safety and Cleanliness
We prioritize guest safety and well-being. Each water slide is inspected and sanitized to meet strict safety and hygiene standards. Our trained professionals handle delivery, setup, and takedown, so you can focus on enjoying the event.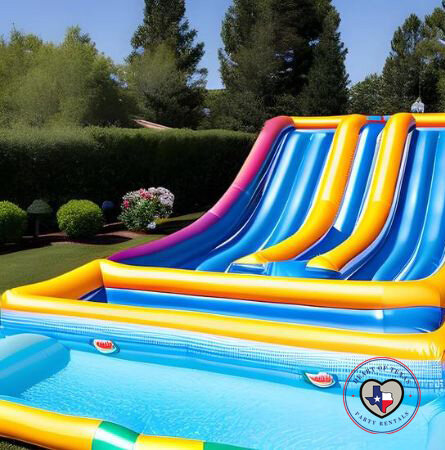 Our commitment to safety and cleanliness extends to customer service and support. Trust our experienced staff to help you choose the perfect water slide for your event and guide you through the rental process for a seamless and unforgettable experience.
Unmatched Customer Service
At Heart of Texas Party Rentals, we offer exceptional customer service. Our friendly team helps you select the ideal water slide rental for your event and addresses any questions or concerns. From the initial booking to the day of your celebration, we're committed to ensuring a seamless and enjoyable experience.
In addition to our Waco, TX water slide rentals, we offer the best Tables, Tents, & Chairs in Waco, TX. Call or book online today, and let's make your next event the best!
Ready to make waves at your next event? Browse our fantastic collection of inflatable water slide rentals in Waco, Texas, and reserve the perfect addition to your celebration today!
10 Foot Water Slide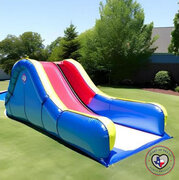 20 Foot Water Slide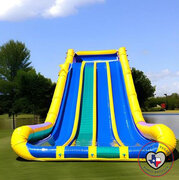 30 Foot Water Slide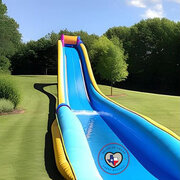 Frequently Asked Questions about Water Slide Rentals
Q.
How do I reserve a water slide for my event?
A.
Reserving a water slide is easy! Browse our selection of water slide rentals on our website, choose the one that best suits your event, and complete the online booking process. Alternatively, you can give us a call, and our friendly staff will help you with the reservation.
Q.
How far in advance should I book a water slide?
A.
We recommend booking your water slide rental as early as possible to ensure availability, especially during peak seasons. However, we will always do our best to accommodate last-minute requests whenever possible.
Q.
What is included in the water slide rental price?
A.
Our water slide rental price includes delivery, setup, and takedown of the water slide, as well as a safety inspection and cleaning before and after each rental.
Q.
What are the age and weight restrictions for your water slides?
A.
Each water slide has specific age and weight restrictions based on its design and size. These restrictions will be provided during the booking process, and our team will be happy to answer any questions or concerns you may have.
Q.
Do I need to provide a water source for the water slide?
A.
Yes, you will need to provide a water source, such as a garden hose, that can reach the setup location of the water slide. We will provide the necessary connections and setup to ensure a smooth operation.
Q.
Can I set up the water slide on any surface?
A.
Water slides can be set up on grass, concrete, or asphalt surfaces. However, it is important to have a flat, level surface free from any sharp objects, debris, or excessive slope. If you are unsure about the suitability of your desired location, please contact our team for assistance.
Q.
What is your cancellation policy for water slide rentals?
A.
Our cancellation policy requires a minimum notice period before your event. Please contact us for specific details on our cancellation policy and any associated fees.
Q.
Do you offer any other party rental items besides water slides?
A.
Absolutely! At Heart of Texas Party Rentals, we offer a wide range of party rental items, including bounce houses, tents, tables, chairs, and more. Check out our other rental categories on our website to find everything you need for your event.
Make a Splash with Exciting Water Slides
Heart of Texas Party Rentals offers an incredible range of inflatable water slides that will bring excitement and refreshment to any event. Our water slides come in various sizes and designs, suitable for all ages and preferences. From thrilling giant slides to fun and engaging slip-n-slides, our water slide selection is perfect for beating the Texas heat and adding a splash of adventure to your celebration. Our water slides are carefully inspected and maintained to ensure safety and cleanliness, providing peace of mind and a hassle-free experience. Elevate your next event with our amazing inflatable water slides and let your guests have a splashing good time!
More Info