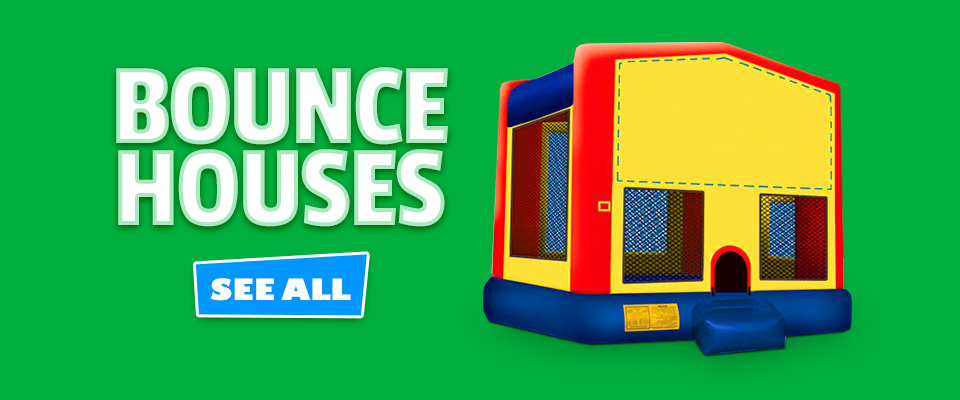 Bounce Houses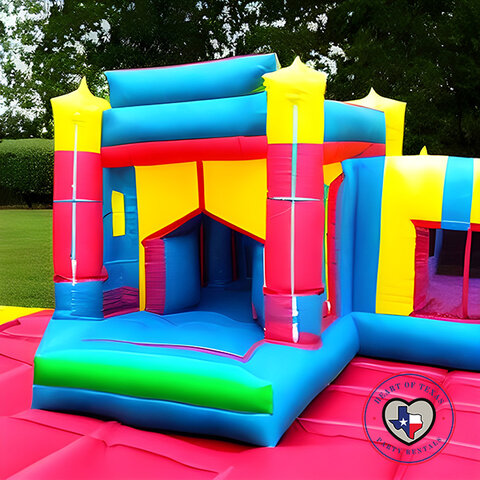 Bounce House Rentals: Add Fun & Excitement to Your Waco, TX Event
Heart of Texas Party Rentals offers a fantastic selection of premium bounce house rentals near Waco, TX. Our top-quality inflatables come in various themes and sizes, perfect for kids and adults. Whether it's a birthday party, school event, or community gathering, our Waco bounce houses guarantee a memorable experience for all guests!
Dive into fun with bounce house rentals in Waco, Texas! These vibrant, inflatable play areas provide endless entertainment for children of all ages, making them essential for parties and events. Our Waco inflatable rentals come in various sizes, themes, and designs, catering to any event style, age group, or budget. Constructed with durable materials, our bounce houses prioritize safety while ensuring endless enjoyment for your guests.
Discover Our Exciting Bounce House Selection
Choose from our diverse collection of bounce houses, designed to suit any party theme or age group. From colorful castles and fun animal designs to popular character themes, we have the perfect inflatable to match your event. All our bounce houses are made from durable, high-quality materials, ensuring guests a safe and enjoyable experience.
Elevate your Waco, TX event with our bounce house rentals and let your guests experience the magic of jumping and playing in these fantastic attractions. Reserve yours today and explore our additional party rental options to create an unforgettable celebration!
Safety & Cleanliness: Our Top Priorities
Your guests' safety and well-being are our top concerns. We meticulously inspect and clean our bounce houses before and after each rental, ensuring they meet our strict safety and hygiene standards. Our team of trained professionals will also handle the delivery, setup, and takedown of your bounce house rental, so you can focus on enjoying the festivities.
Furthermore, Heart of Texas Party Rentals is fully insured and compliant with all safety regulations, giving you peace of mind when you choose us for your Waco party rental needs. Our commitment to maintaining a safe and clean environment for your guests allows you to confidently create memorable experiences for everyone involved in your special event.
Experience Exceptional Customer Service
At Heart of Texas Party Rentals, we pride ourselves on exceptional customer service. Our friendly and knowledgeable staff can help you choose the right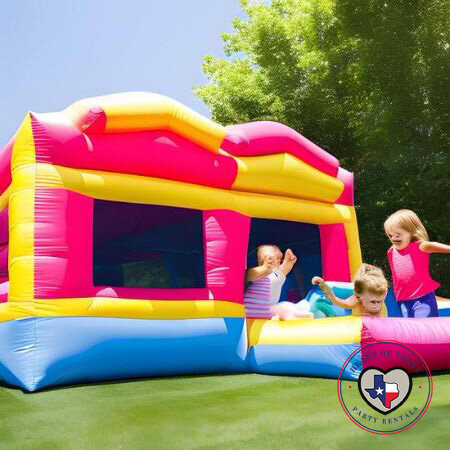 bounce house rental for your event and answer any questions. From the initial booking to the day of your celebration, we'll be there every step of the way to ensure a smooth and memorable experience.

We also have high-quality Water Slide Rentals Waco TX for your next hot Summer event! Call us or book online to reserve yours today!
Ready to add some bounce to your event? Explore our fantastic selection of bounce house rentals in Waco, TX, and book the perfect inflatable for your celebration today!
10 Foot Bounce House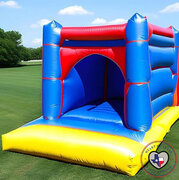 20 Foot Bounce House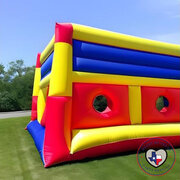 30 Foot Bounce House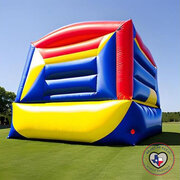 Frequently Asked Questions about Bounce House Rentals
Q.
How do I reserve a bounce house for my event?
A.
Reserving a bounce house is simple! Browse our selection of bounce house rentals on our website, choose the one that best suits your event, and complete the online booking process. Alternatively, you can give us a call, and our friendly staff will help you with the reservation.
Q.
How far in advance should I book a bounce house?
A.
We recommend booking your bounce house rental as early as possible to ensure availability, especially during peak seasons. However, we will always do our best to accommodate last-minute requests whenever possible.
Q.
What is included in the bounce house rental price?
A.
Our bounce house rental price includes delivery, setup, and takedown of the bounce house, as well as a safety inspection and cleaning before and after each rental.
Q.
What are the age and weight restrictions for your bounce houses?
A.
Each bounce house has specific age and weight restrictions based on its design and size. These restrictions will be provided during the booking process, and our team will be happy to answer any questions or concerns you may have.
Q.
Can I set up the bounce house on any surface?
A.
Bounce houses can be set up on grass, concrete, or asphalt surfaces. However, it is important to have a flat, level surface free from any sharp objects, debris, or excessive slope. If you are unsure about the suitability of your desired location, please contact our team for assistance.
Q.
Do I need to provide electricity for the bounce house?
A.
Yes, you will need to provide a standard 110V electrical outlet within 100 feet of the setup location for the bounce house. If an outlet is unavailable, you may need to rent a generator to provide power.
Q.
What is your cancellation policy for bounce house rentals?
A.
Our cancellation policy requires a minimum notice period before your event. Please get in touch with us for details on our cancellation policy and any associated fees.
Q.
Do you offer any other party rental items besides bounce houses?
A.
Absolutely! Heart of Texas Party Rentals offers a wide range of party rental items, including water slides, tents, tables, chairs, and more. Check out our other rental categories on our website to find everything you need for your event.
Discover Endless Fun with Our Bounce Houses
At Heart of Texas Party Rentals, we offer a fantastic selection of bounce houses designed to provide endless entertainment for kids of all ages. Our bounce houses come in various themes, sizes, and styles, ensuring that you'll find the perfect one to match your event's unique atmosphere. Whether it's a princess castle, superhero hideout, or a colorful jungle adventure, our bounce houses are a surefire way to make your party a hit. Safety and cleanliness are our top priorities, so you can trust that our inflatables are well-maintained and ready for action. Let us help you create a fun-filled and unforgettable experience with our top-quality bounce houses!
More Info